Hire A Holland Park Electrician
All electrical work in the home should always be done by a licensed electrician Holland Park based or a registered electrical contractor.
This is because it is illegal to do electrical work yourself, and you can be heavily fined if you do.
You can also ask your electric utility or electrician to perform an electrical safety assessment of your home.
This will identify potential problem areas that can then be fixed – before the problem occurs.
Finally, while you can purchase electrical accessories such as light switches, outlets and light fixtures, you cannot install them yourself. Instead, an electrician must do this.
In addition, the electrician must also install hard-wired appliances such as stoves, furnaces, ceiling fans and air conditioners.
How to hire the best electrician in Holland park

When it comes time to hire an electrician, you need to make sure he is the right person for your job. 
Some questions you should ask him are:
    Are you licensed?

    Are you insured to work in my home?

    Can you provide a written estimate?

    Do you have references I can check?

    Can you give me a certificate of compliance?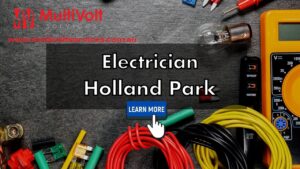 Electrical safety
We take electricity for granted because it's so commonplace, but it's not something to be taken lightly. 
This checklist will help you choose a qualified electrician whose work you can trust.
1.) First, get estimates from electricians who specialize in the type of work you want to be done:
If you need an alarm system, home entertainment system or other electrical system installed, get quotes from professionals specializing in these areas. They are familiar with the latest technologies and have the experience to give you the best plan for your money.
If you need lighting installed, get quotes from electricians who can advise you on what types of lighting are best and where to install them most effectively.

Some electricians specialize in rewiring. 
They know how to do rewires quickly, safely and efficiently.
If the trade license number is not on the proposal, you should not accept it. No reputable electrician will give you a quote without their registration information, no matter how cheap the quote is.
Check the electrician's license when he comes to your home.
Make sure he:
    Has a current license.

    He has a license for the type of work you want to be done.
An estimate is not a contract. 
If you have more than minor repairs done, get a written agreement before agreeing on a price. If the job is small (like installing a single electrical outlet), the electrician should be able to give you a firm estimate or quote.
When you receive a contract, make sure it includes 
the date, 

the electrician's name, 

his ABN or business license number

all of his contact information. 
Also, make sure it consists of an itemized list of material and labour costs. If the electrician cannot give you an exact price, the contract should include the hourly rates and why the same price cannot be shown.
First and foremost, if you hire an electrician or other tradesperson, make sure they are a licensed tradesperson. 
We take electricity for granted and enjoy all the benefits it provides, forgetting that electricity is inherently dangerous.
All it takes is one mishap to cause a fire or electrocution, so reviewing the general safety precautions for electrical appliances in the home never hurts.

Household appliances and electricity
The best advice for handling electrical appliances are:

Turn off the power at outlets before plugging in or unplugging appliances.

If a cord is frayed or a plug is broken, take the equipment to an approved repair service instead of repairing it yourself.

If you do not want to repair it, stop using it and dispose of the cord.


Use extra caution when using an appliance near water sources such as sinks, bathtubs, or swimming pools. 

The distance between the outlet and the water should be greater than the length of the cord to avoid any danger.

If a device is immersed in water, dispose of it. 

The water left in it can conduct electricity and be very dangerous.

Keep exhaust fans clean and lint-free. Lint is flammable, and clogged filters can cause overheating and a possible fire,

Water and Electricity

Water is one of the best conductors of electricity. For this reason, you must take special precautions when working with electricity near water.

Never touch a light switch or operate an electrical device with wet hands or feet.

Always unplug electrical appliances, such as hair dryers or hair straighteners, after use and keep them out of the reach of children.

 Never use a portable heater in the bathroom. 

If you need a heater in the bathroom, have an electrician install a heat fan light or a three in one.

 Use only approved extension cords for outdoor wet areas or anywhere water may be present in the home.
Doing electrical repairs
There is only one safety rule for electrical repairs: never attempt to do them yourself. 
Only licensed electricians are qualified to perform even minor repairs.
A certificate of compliance is a legal document stating that the work performed meets all federal, state and local codes. It can protect you from liability claims if an accident later occurs due to faulty workmanship. .
Wiring is one of the most important aspects of any home. 
They must be adequate and safe. 
Make sure the wiring is adequate.
Therefore, you need to make sure that the wiring in your home is adequate for both your current and future needs. 
This is especially important if you plan to install home automation, as home automation relies heavily on structured wiring to function correctly.
Do you use extension cords or adapters? 
For example, do you have enough outlets to power all your home theater equipment?
Upgrading to quad power points are what we recommend in most rooms these days.
We will always ensure that your switchboard can manage the load with the extra power points installed.
Types of electrical wiring work
 These include:
    Installing security switches

    Home automation

    New house wiring

    Underground wiring

    Electronics

    Electronic controls

    PLC control and programming

    Air conditioning

    Telephone and electrical data cabling

    Cat. 5, Cat. 6 and fibre optics

    Electrical maintenance and service

    Furnace repairs

    Rewiring

    Renovations
Hiring a Holland Park Electrician
There are exceptional electricians for home automation but is laways wise to ensure that you have found one!
Have a conversation with the electrician and allow them access to your job site.
Always ask about current licenses, homeowner's warranty insurance, construction performance insurance, workers' compensation insurance and public liability insurance.
Finally, ask for and check references. 
Ensure the payment schedule is clear to both parties and set start and end dates for the projects. 
Failure to comply or issue a certificate is a criminal offence.
We rarely need to look for a compliance sticker on a household appliance anymore because both manufacturers and distributors know there is a reason for the strict regulations, and unscrupulous companies understand that the price of non-compliance is too high. 
And if you're planning a project that involves electrical work, the law is evident. 
For your safety and the safety of those around you, you must hire a licensed electrician and no one else.
Licensing and regulation of electricians
Electrical work without a license is not only illegal in Australia, but it can also pose a severe threat to the health and safety of your home. 
So how much will the electrical work cost?
That's the first question that comes to mind, and for a good reason. 
For most of us, dollars and cents are significant. 
That's why getting an estimate on labour and material costs is essential.
You always need a budget, no matter the size of the task – whether it's routine maintenance, a significant renovation, or just working through your to-do list.
How much will a Holland Park electrician cost?
Many electricians charge a flat service fee and an hourly rate. 
The service fee often covers the first 30 minutes the electrician works on your job. After that, expect a service fee in the range of $70 – $130 and $70 – $95 per hour, with the hourly rate calculated in 15-minute increments. 
Electricians who do not charge an on-call service fee may charge extra for the first hour of work.
Many electricians will charge a flat service fee and hourly rate for your job.
Factors that determine the final cost of service include the following.
    Your location

    the complexity of the work

    the ease of access to the job site
For example, installing wiring in a new home is usually faster than in an older home because of better access to all necessary locations, such as the ceiling void.
What tasks can an electrician do?
So what can your local licensed electrician do for you? 
A whole lot, including:
Alarm system installation: some electricians specialize in alarm system installation and often have special training.
Emergencies: Some electricians are willing to work after hours so you can get help if something serious happens at an inconvenient time.
Electrical data wiring: modern homes are full of "smart" technology, and an electrician can make sure everything works and integrates as it should.
Home automation: electricians who specialize in home automation can help you achieve a smart home by giving you control over your access, security, lighting and more.
Lighting: indoor and outdoor lighting is all about creating the right mood and making sure every room and activity is lit in the right amount and type.
New homes: electricians take care of all the wiring, outlets, lighting and more in a new home.
Power Outlets: If you're upset about a lack of outlets, an electrician can help ease your pain.
Home Renovations: No matter the size of your renovation project, you'll likely need an electrician to install lighting, outlets and more.
Repairs and maintenance: when electrical equipment needs repair or routine maintenance, a licensed electrician can help.
Rewiring: in older homes, wiring may be unsafe and not up to the latest standards; a licensed electrician can help.
Safety switches: These are an essential part of your electrical system, protecting you from power surges, faulty appliances, and damaged wiring.
Solar energy: an electrician can help you switch to a more environmentally friendly energy source and install all the necessary solar system elements.
Switchboards: older homes often need to replace their electrical panels, especially renovating or expanding.
You are planning your home's electrical system.
If you're building a new home or renovating, there are some practical things to consider regarding your electrical system and the features you need.
Take the time to consider:
 

What type of lighting – general, task or ambient – does each room or space need?

The location and number of light switches, outlets and data outlets in each room

Whether you want or need the functionality of a home automation system

If you need a home security system
When it's time to hire an electrician look no further than out recommended Holland park electrician – Multivolt Services!