Timber Deck And Patio Furniture 
If you are going to invest in an outdoor entertainment area, you will need to do a little research and consider what you need. 
First, learn the difference between a deck and a patio, and then decide which patio furniture will work best for your outdoor entertainment area.
A deck is open-air without a roof, and in Brisbane, most people want a shade solution.
A pergola is traditionally a free-standing structure typically made of timber. However, modern pergolas are now also built with metal frames.
A pergola is typically a relatively simple structure, and it can be over a timber deck or a paved area.
A patio in Australia is more of an outside room, and it can have walls, and often, it is on a paved area is a paved area and connected to the house.
Patios and pergolas can be very similar and are often interchangeable with how people describe a covered outdoor area.
Guide To Buying Deck And Patio Furniture
You've stained and sealed your new deck, and you're ready for an outdoor lifestyle. 
Now you need some outdoor furniture for yourself and your guests. 
The good news is there are more types and styles of patio or deck furniture from which you can select the desired one. 
Here's what you need to know.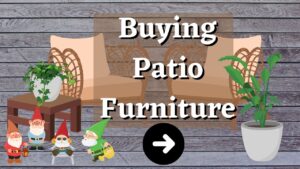 Wood Or Timber
Wood always looks great on a deck. However, keep in mind that any wood will turn grey with prolonged exposure to the sun. 
Suppose you oil or stain your timber furniture regularly – at least every two years With high-quality furniture oil. In that case, you can prevent greying for several years while your furniture slowly darkens. 
Store your wood deck furniture indoors or under a cover during the winter.
 Pine is temptingly inexpensive, but it won't stand up to the elements for long unless it's entirely painted with at least two coats of paint, and this is every side of each board.
 We're not massive lovers of pressure-treated wood furniture because the wood is frequently of poor quality, cracking and splitting over time.
Cedar makes beautiful outdoor furniture that can withstand the weather – up to a point. To keep your cedar furniture looking its best, you should refinish it with a high-quality, penetrating sealer at least every two years. Some sealers have a light tint to assist them to repel UV rays.
Teak: Is superior and the most popular timber for n outdoor area.
Expensive? Yes, of course! But beautiful and durable and will not crack and warp like cheaper timbers.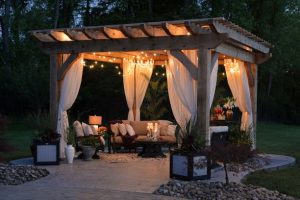 Wrought Iron (and cast iron)
Iron is a sturdy metal and certainly one of the heaviest. 
If you live in a windy area, iron is a great choice to prevent furniture from being blown away. This is particularly important if it is on a balcony above street level.
Iron furniture is prone to rust, so you'll need to clean it now and then by lightly rubbing it with fine steel wool. 
If it's painted, it will last many years and just touch-ups as needed. 
Iron being metal will get super hot when out in direct sunlight, so you should be careful of that. 
Finally, you will need outdoor cushions for the back – iron is hard.
Cast Aluminium
Cast aluminium is the modern (and inexpensive) alternative to classic wrought iron outdoor furniture. It is lightweight, weather-resistant, durable and offers a wide range of styles, from sleek modern to industrial-era flourishes and embellishments. 
In addition, powder-coated aluminium deck furniture is resistant to corrosion. It is what is recommended in coastal areas. 
Always be keep in mind about wind gusts. Coastal areas can be windy, and aluminium furniture is lightweight and can be swept up in a storm.
Since it is a hard surface, plan to get suitable all-weather cushions for the seats and backs.
Stainless Steel
Powder-coated steel offers a fair balance of cost and durability. It's not as sturdy or maintenance-free as the other metals, but it gives you an excellent style at a reasonable price.
Wicker Also Sometimes Call Rattan
An outdoors wicker gives a relaxed, stylish and calm. 
It's a general term for any furniture made from woven fibre materials. 
It's made in a variety of styles, from intricate Victorian to a relaxed coastal vibe.
Wicker dining chairs always look stylish. Pair chairs with thick cushions for comfort.
• Natural wicker is made from rattan, reeds, bamboo or seagrass. After a piece is sanded and stained, the wicker is sealed with lacquer. 
It needs good care, which (unfortunately) means protecting it from sun and rain, so it can be best to use it under a covered part of your deck. 
• Synthetic wicker is woven from fibres made of vinyl and resin. It is impervious to moisture and rot, making it waterproof for outdoor use. Cheap versions are available, so check reviews for quality products. High-quality synthetic wicker will last many years. The cheap versions will not!
Tips For Designing and Styling Your Timber Deck

Good deck furniture will bring comfort and function to your outdoor space. 
For example, outfitting a porch with a wicker sofa and a classic rocking chair, both with soft cushions, can quickly turn it into a second family room during the warmer months. 
Complemented with the right furniture, even small spaces like balconies and small gardens will lure people into spending time outside. 
Use these tips to select for your area the best deck furniture. Thoughtful planning will help you make your backyard your new favourite place to lounge, eat and entertain.
1. Form A List Of Timber Deck Furniture Requirments
Start by thinking about how you want to use your outdoor space. 
Do you wish to use it as a dining space on those warm summer evenings? Are you planning to host your next dinner party or the kids' birthday party in this space? 
Or do you envision a quiet reading nook tucked away in your outdoor space?
If your deck's principal function is to host casual get-togethers in the evenings, for example, you don't need a big dining table. 
Instead, opt for plenty of comfortable seating, several side tables, and a fire pit.
If outdoor dining is on the priority list, choose a good-sized table with seating that is easy to move around our seating that can be tucked under the table when not in use.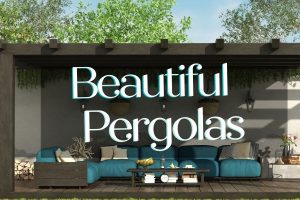 2. Try Out Outdoor Seating Before You Buy
When buying deck chairs and sofas, be sure to try out seating before you buy. 
Deck furniture is likely to be used regularly, especially in the warmer months, so it's important that the seating is comfortable. 
For the most comfort, look for pieces with plush cushions on the seats and backs.
Also, make sure all fabrics are weather-resistant to prevent colours from fading. Newer style outdoor cushions can get occasionally wet and dry out without rotting or getting mouldy. In stormy weather, always cover outdoor furniture to prevent excess saturation.
3. Opt For Low-Maintenance Garden Furniture
Reserve the majority of your time outdoors to enjoy your living space, not to maintain the furniture. 
Look for low-maintenance deck furniture to minimize maintenance. 
Most metal, teak, cedar and all-weather wicker furniture can handle most weather conditions.
 Furniture composed of these materials will last for years with a frequent little cleaning. 
Also, outfit your deck furniture with outdoor cushions and pillows with removable covers that you can easily throw in the washing machine.
4. Consider Storage For Your Deck Furniture
During the off-season, store your deck or patio furniture in a protected spot to extend its life. For example, a garage or shed will protect smaller items like shade umbrellas or small BBQ's from the elements and prevent damage or additional wear and tear. 
Even the most durable deck furniture, such as teak chairs or a wrought iron couch, will survive longer if covered when not in use. 
If you have limited storage space, look for deck furniture that can be folded or quickly taken apart for compact storage.
Many dining tables have a nested design, where the chair will fit in under the table. Always store cushions out of the elements where possible. It will extend the life and prevent bird or bat droppings from lanf=ding on the fabric and staining it. 
When deck season is over, stackable chairs can also help you make the most of your storage space.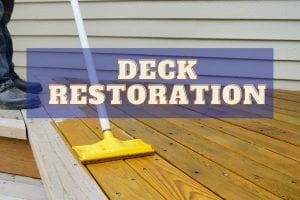 5. Match The Colours To Your Outdoor Décor
When buying deck furniture, you're not limited to neutral colours or the natural tones of wood. 
Synthetic wicker, wood stains and metal furniture are available in a variety of colours today. 
Look for furniture that picks up the colours of your yard, the exterior of your home, or your other outdoor décor. 
Choose vivid hues for cushions and accent pieces to help it last as long as possible. In addition, these pieces are likely to be used less often, resulting in minor wear and tear, and they are less expensive to replace.
6. Invest In High-Quality Deck Furniture
Invest in high-quality deck furniture. For example, plastic chairs or side tables may look great on the shelf and keep their good looks for a year or two in the sun, but they become brittle and lose their vibrant colour over time. 
The same can be true for some wood products and cheap synthetic wicker. Shop wisely and check consumer reports and reviews before making a big purchase. 
If you're sticking to a budget, spend a little more on items that will be used most often, such as a comfortable recliner or sturdy dining table. 
In addition, you can save on smaller accessories like pillows and end tables.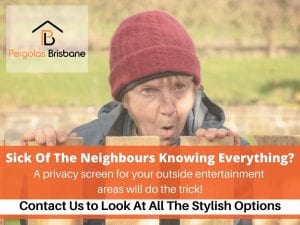 7. Add Colour And Freshness To Your Outdoors
• Outdoor rugs
Ground deck furniture by placing it on an all-weather rug. Soft underfoot and rich in texture, an outdoor rug will bring indoor comfort to your patio or deck. Choose a colour and pattern that coordinates with your other furniture and decor to pull your outdoor space together. Before you buy a rug, be sure it's suited for outdoor use. 
• Pot Plants
Plants are an easy way to beautify your deck, add a splash of colour to shady areas, or deal with poor soil in your yard. Make sure the bottom of the pot has a hole, so plants don't drown, and read the label or talk to the nursery to find out which plants will thrive in your particular environment, such as full sun or partial shade.
If you are looking to spruce up your backyard, Local Deck Builders Brisbane can help transform your outdoor areas!