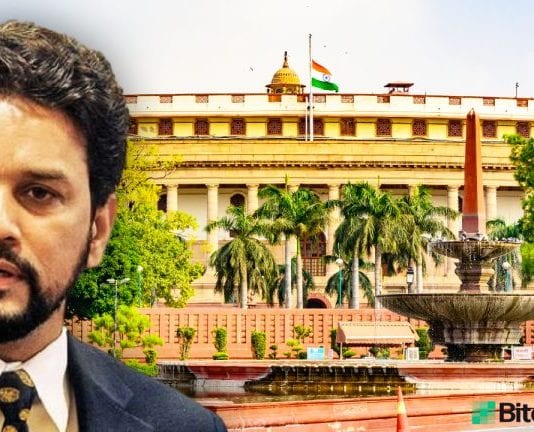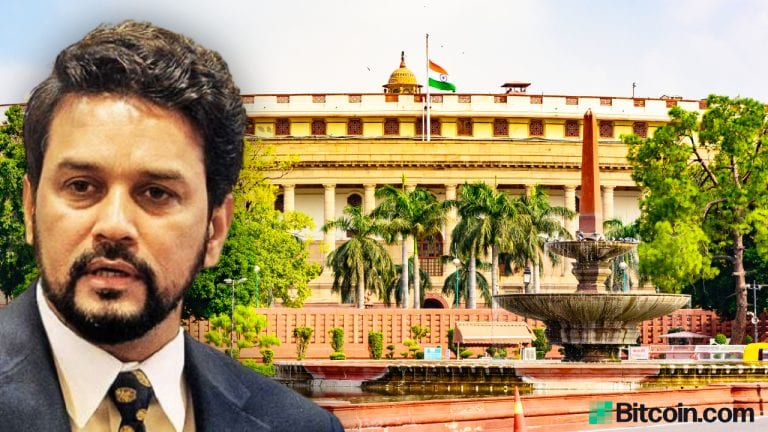 The Indian government has spoken about the cryptocurrency bill again. This time, the minister of state for finance has clarified the status of the crypto bill that is expected to be introduced in parliament during the current session.
Indian Ministry of Finance Clarifies Crypto Bill Status
The subject of bitcoin and the cryptocurrency bill in India was raised on Tuesday in Rajya Sabha, the upper house of India's parliament. Recently, the crypto bill was listed to be introduced in Lok Sabha, the lower house of parliament. The bill seeks to ban cryptocurrencies while creating a regulatory framework for the central bank digital currency to be issued by the Reserve Bank of India (RBI).
Since its Lok Sabha listing was made public, questions have been raised in Rajya Sabha about the crypto bill. Last week, Minister of State for Finance Anurag Thakur clarified the government's position on cryptocurrency and the digital rupee.
On Tuesday, more questions were raised in Rajya Sabha about the cryptocurrency bill. Parliament Member K.C. Ramamurthy asked: "There is no doubt the problem of bitcoin and other cryptocurrencies is escalating … I would like to know from the honorable finance minister whether there is any proposal to bring in a bill to curb cryptocurrencies in the country." Minister Thakur replied:
Regulatory bodies like RBI and SEBI, etc, also don't have a legal framework to directly regulate cryptocurrencies, as they are neither currencies, nor assets or securities or commodities.
He continued to explain that "The existing laws are inadequate to deal with the subject," adding that an interministerial committee (IMC) was therefore formed and the committee has given a report.
Minister Thakur further revealed that "There was a meeting of the empowered technology group which happened earlier," noting that another committee with the Cabinet Secretary has also given a report. In conclusion, he said:
The bill is being finalized and would be sent to the Cabinet soon.
The Indian crypto community welcomes this clarification by the minister of state. Nischal Shetty, the CEO of the Indian crypto exchange Wazirx, told news.Bitcoin.com: "I think that's a positive sign. There will also supposedly be discussions around the bill, so it's not going to be implemented in a hurry. I think overall this is a very positive development that just happened."
Do you think India will ban cryptocurrencies? Let us know in the comments section below.
The post Indian Government Confirms Crypto Bill Is Being Finalized — Existing Laws Inadequate appeared first on Crypto Scoop News.
The post Indian Government Confirms Crypto Bill Is Being Finalized — Existing Laws Inadequate appeared first on GQ Central.