Affordable, simple, and easy to use. The OptiShot2 Golf Simulator is a phenomenal package for under $1k.
Here we will go over everything you need to know about the OptiShot2 Golf Simulator and why we think it would be a great investment for your home.
Tell Me a Little About OptiShot
OptiShot has been a leader in the golf simulator industry since 2005. They're known as their simulator is #1 in the world.
They are based in Michigan and specialize in innovation of new golf technologies. They've been named as one of the fastest growing companies according to Inc. 500.
They've been honored to win other awards such as:
Score Golf Research & Development Award
Named as One of the 50 Michigan Companies to Watch
The Flyover 50 Award; an Award in the Midwest for Fastest Growing Companies
They pride themselves on creating stellar golf simulators and training products.
What's Included with the Optishot2 Golf Simulator?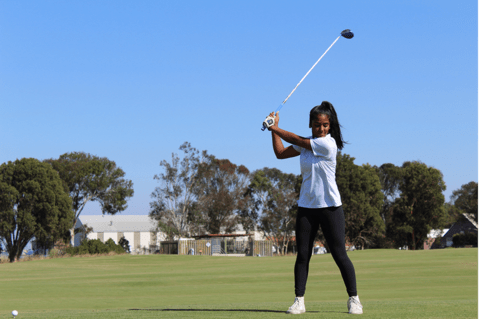 This simulator comes with everything you need to create your very own golf course inside your home.
It allows you to set the weather conditions of the game, type of game to play to play and how you practice. On top of all that they have kept the system affordable without skimping on quality and performance.
In the package you'll receive:
The OptiShot2 Infrared Optical Swing Pad
Software Download
10 Foot USB Cable for Hookup
Adjustable Rubber Tees
Two Practice Balls of High-Quality Foam
1 Year Comprehensive Warranty
Hitting Mat
Full-Size Portable Hitting Net
Swing Pad and Software
A Total of 15 Included Golf Courses and a Driving Range
The system allows you to play with your real clubs, even your own putters so you can put your practice into your real game on the course. Some recommended placing some white masking tape on the bottom of your clubs to give the sensors an easier time of picking them up.
You can use the included foam balls, real golf balls, or even no balls at all and it will still provide you all the data about your swing that you need to improve your game. While it doesn't give ball specific data it will give you good information on your stance and swing.
You can play 1-4 players, making it a great option for family game night, and it's able to be connected to an HDTV or projector system.
The OptiShot Mat is made of dense foam and turf with a hole that fits the simulator seamlessly into the mat. The net is 10'x7' and fits in most spaces. The mat is 4'x5'.
What Customers Love About the OptiShot2 Simulator
We have done our research, analyzing over 500 customer reviews on the OptiShot2 to bring you the info on this system. This unit has been well received and the majority of reviews are positive. Most remind you to remember what you paid for the unit when deciding whether you are happy or unhappy with your purchase.
Throughout the web we have seen a steady 4 out of 5 for the unit. Some of the things the reviewers loved about the OptiShot2 Simulator are:
Good Value for the Price
Strikes are Calculated Well
It's a Lot of Fun to Use
Easy to Use Right Out of the Box
Calibration Makes the Performance Even Better
Pays for Itself in the First Couple Uses Compared to Going Somewhere to Practice
The Practice on This Unit Reflects in the Real World
Works Well in the Dark
Accurate Determination of Angle, Speed, and Swing Path of the Club Head
Access to a Ton of Great Courses Even Without the Additional Membership Cost
Saves Tons of Money on Driving Range Fees
Most of the Reviews Said They Play 18 Holes Almost Daily Because the Simulator is So Great to Use
What Customers Have Issues With
While most reviews are positive you can't please everyone. Here are some of the issue's customers have had with the OptiShot2.
The Return Policy Leaves Some Things to be Desired

Reviews Have Mentioned Large Restocking Fees and Unhelpful Customer Service During Returns

The Different Components Arrive Separately

In Some Cases, It Took Quite Awhile to Get the Whole Set

While the Simulator Tracks Club Head Speed and Face Angle it Doesn't Account for Loft, Spin, or Other Factors to Provide a More Accurate Simulation
Some Think the Software Feels Dated
If There are Mechanical Issues the Company Does Require You to Cover Shipping Costs to Return It
Fun but Not Really for Serious Golf Training
It Doesn't Adjust Based on Which Club You're Using
Final Thoughts on The OptiShot2 Golf Simulator
When you're looking for a golf simulator for your home you need to consider what you're buying the unit for. Are you a serious golfer who needs work on your skills? Are you looking for something fun to do on a rainy day or with your buddies when you can't hit the course? Are your kids looking to play golf with you but can't come to the course yet?
You would need different systems for different needs. We would say if you're looking to seriously change your game and get real practice you might want to opt for one of the higher priced options that offer more data analysis of your swing and ball speed.
If you're looking for something fun to maintain your skills for your hobby or are looking for a fun activity at home, this is a great system for you. While practice makes perfect and this system can get you results, it won't give you a more detailed analysis of your swing like you would get with a more sophisticated system like the SkyTrak systems.
But, the price of the OptiShot2 can't be beat. At under $1K, this is a great deal and would make a great gift for the golf lover in your life or a fun way to blow off steam at the end of the day.
Ready to get the OptiShot2 system? Click here to find the best deal!
The post Everything You Need to Know About the OptiShot2 Golf Simulator appeared first on GQ Central.